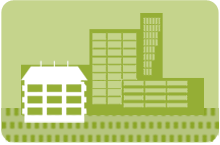 Dear investors!
Kryvyi Rih is an effective platform for investments.
A number of projects/proposals has been developed and successfully implemented attracting different investment resources in Kryvyi Rih. Data base of these projects is being permanently updated.
Local government is interested in achieving positive results of cooperation with investors and promotes all activities aimed at investment attraction into the city.
City Development Institution (irm.kr.ua). has been established in the city, one of a few ones in the country. Kryvyi Rih City Development Institution (CDI) is an analytical center working for improvement of living conditions for the Kryvyi Rih City residents. Its mission is support of sustainable local economic development in accordance with the newest tendencies and community's needs.
The priority activity of the enterprise is project management: development and implementation of investment and grant projects, follow-up of investment projects.
Investment projects