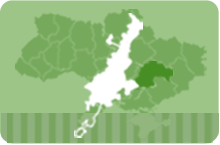 Kryvyi Rih is a "steel heart" of Ukraine, a powerful mining and metallurgical center of the world with developed industrial complex.
It is a "life-long city" of talented and hardworking people, united in a community with a competent self-government.
It is cultural, scientific, sports center of Dnipropetrovsk region with lots of parks and squares, located on the banks of Inhulets and Saksahan rivers.
The city has the important transport infrastructure, it is crossed by 1742 roads.
Kryvyi Rih is the largest city of Ukraine that has the status of city of regional significance. The city is located in the central part of the Ukrainian crystalline massif and it is one of the richest regions of Ukraine in terms of mineral resources.
Administrative division of the city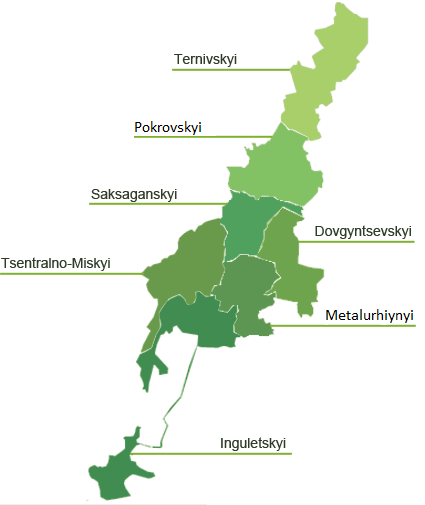 Area
431.4
km.
2
as of January 1, 2020
The length of the city is
126
km from the north to the south (the largest in Europe) and the width to
20
km
Geographical position of the city is
47 o54 ' north latitude longitude
33 o23' east longitude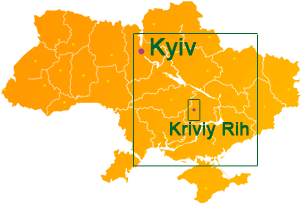 Rating by area in Ukraine
Kryvyi Rih is ranked
6
th among the cities of Ukraine for its area as of January 1, 2020
---
Distance to
the Oblast Center (City of Dnipro)

146

km.
the sea port (City of Odesa)

309

km.
the center (City of Kyiv)

426

km.
the Republic of Moldova (City of Chisinau)

445

km.
Romania (City of Bucharest)

879

km.
the Republic of Belarus (City of Minsk)

942

km.

1,104

km.
the Republic of Poland (City of Warsaw)

1,180

km.
the Republic of Bulgaria (City of Sofia)

1,240

km.
the Republic of Hungary (City of Budapest)

1,347

km.
the Republic of Turkey (City of Ankara)

1,500

km.
the Slovak Republic (City of Bratislava)

1,547

km.
the Czech Republic (City of Prague)

1,680

km.
Neighbouring oblasts:
Kirovohradska, Mykolaivska, Zaporizka, Khersonska